Contingent Workforce Solutions Might Be the Answer to Your Workforce Woes

Posted on January 26th, 2022 Read time: 6 minutes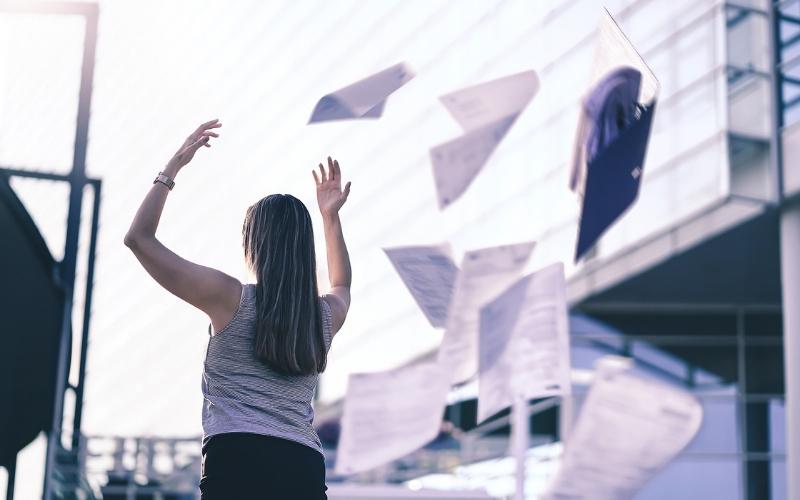 2021 was a lot of things, but for many people, it was also the year they said "goodbye" to their employers. In May 2021, we began hearing rumblings of the so-called Great Resignation, and what followed were consecutive months of record-setting quit rates that peaked at 3% in September. In November alone, 4.5 million Americans voluntarily left their positions (a new high), and the estimated grand total of 2021 resignations sits around 40 million workers.
Much has been said about the cause of this phenomenon, and we will continue to gain a better understanding of the mass exodus with each passing year. But what we do know is that employees quit for a variety of reasons — whether they were dissatisfied with their jobs, wanted more flexibility and better pay, or saw the pandemic as an opportunity to switch careers (or even industries).
Resignation rates were highest in the tech and healthcare spaces, both of which battled extreme pandemic-fueled demand increases. Working moms in particular left their jobs in droves to take up the child care reins, and myriad professionals over the age of 55 decided to retire, meaning they're gone from the labor force for good. Although we might have drawn the curtains on 2021, the Great Resignation could certainly accelerate into 2022.
According to a December 2021 study, 23% of American workers plan to leave their current employers in the next year. In other words, for all the workers who took the leap in 2021, there's a line of people still teetering on the precipice. If you hope to attract and retain talent in this competitive market, then, you need to take a critical look at the undeniable impact of the Great Resignation and find solutions for 2022's workforce woes.
Attracting and Retaining Talented Employees: Modern Solutions to Modern Problems
When trying to attract and retain talented employees in 2022, companies would be wise to prioritize a few key initiatives, including:
A sharp focus on diversity, equity, and inclusion (or DEI):
With 76% of employees wanting to work at companies with diverse, inclusive cultures, it's safe to say DEI is nonnegotiable. Likewise, research confirms that DEI-oriented organizations have less trouble recruiting and retaining talent.
Enhanced workplace flexibility:
Telecommuting has provided a level of freedom and flexibility many Americans weren't afforded pre-pandemic, and the Great Resignation has shown us that many would rather resign than come back to the office.
The right pay and perks:
After a grueling two years of working through a global health crisis that obliterated their routines, isolated them from their support systems, and left them running on fumes, many workers have reached their limit. If you hope to retain top talent, you must give people a good reason to stick around. Ensure your salaries are competitive and your benefits actually improve employees' lives (e.g., affordable health insurance, 401(k) matching, and so forth).
That being said, you can be certain that most savvy HR leaders are aware of these strategic initiatives — and they probably have plans to implement them. That doesn't mean you shouldn't, too, but it does mean that retaining talent in a competitive market means you have to think beyond these baseline strategies. At Innovative Employee Solutions, we believe that hiring and engaging contingent workers is one of the most valuable countermeasures to the Great Resignation a company can take. Below, we'll explain why.
Contingent Workforce Planning: Understanding Benefits Packages
There are numerous benefits of hiring contingent workers, but being able to have a flexible workforce and bring on talented professionals as needed for a defined period of time is certainly one of the most important. Whether you need to bring on additional workers to meet seasonal demands or find a specialist to help you complete an ambitious project, hiring and engaging contingent workers helps you avoid the significant costs associated with recruiting, hiring, and retaining full-time talent.
However, before deciding to employ a contingent workforce strategy, you need to understand the ins and outs of managing a contingent workforce. For instance, you might wonder what contingent workers expect from the companies they work for. You should know first and foremost that companies that hire and engage contingent workers are not obligated to provide traditional benefits. So if that's the route you want to take, it's critical to make that fact very clear in your contracts and onboarding paperwork.
If, however, you'd like to provide some benefits to your contingent workers, consider working with an employer of record (or EOR) partner. An EOR partner acts as the legal employer of record for contingent workers, and they can offer a variety of benefits (think medical, vision, and dental insurance; retirement plans; and other supplementary benefits such as long-term disability insurance).
Make sure your EOR partner has a wide range of attractive offerings so contingent workers don't feel like they're being shortchanged. And if you're wondering why you might offer benefits through a partner if you don't have to, consider that contingent workers are armed with the power of choice. They can just as easily move on to another company that does offer attractive benefits for contingent workers.
Contingent Workforce Solutions: Global Hiring Practices
Another advantage of contingent workers is the unmatched flexibility and agility you can achieve through them. When recruiting and hiring full-time employees, you are likely searching within specific geographic boundaries. However, managing a contingent workforce often means widening your recruitment net, which will increase your talent options significantly. Instead of limiting your search by geography, you can limit it by skill set or experience level in order to find workers who meet your business's unique needs — no matter where your company or the worker is located.
Taking a more global approach to contingent workforce management also gives your full-time employees more options. In the past, if an employee had to relocate, they typically submitted their resignation and moved on. But in the world of global hiring practices, employees who want to relocate can transition into contingent workers instead of cutting ties entirely. That way, you can retain the top talent you need. It's a win-win. That said, global contingent workforce management isn't without its challenges.
Employment laws in other countries vary widely, and the last thing you want is to find yourself in regulatory hot water. When it comes to contingent workers, one area you need to be well-versed in is the distinction between fixed-term and indefinite arrangements, as well as the country-by-country requirements for each. For example, even if a contingent worker is on a fixed-term contract, they might still receive mandated annual leave and other benefits required by that country.
Or let's say you need specialized talent for a project, so you decide to hire a self-employed independent contractor who lives and works in the United Kingdom. Sounds straightforward enough, but are you knowledgeable of the U.K.'s most recent worker classification legislation, IR35? If not, you risk misclassifying this worker as an independent contractor rather than an employee. Lastly, it's important to understand the compliance laws of employment in each country. For example, what are the maximum working hours? What is the legal notice period? How do things like pay cycle, mandated time off, and holidays differ for workers in other countries compared to those in the United States?
The point is that employment laws in other countries vary significantly, so you need to be keenly aware of employment regulations before hiring and engaging contingent workers outside of the U.S. And if this all seems incredibly overwhelming, consider hiring a global employer of record to take the burden off your HR team. Reputable global employers of record are compliance experts and will manage the employment responsibilities while you engage the talent you need.
Beyond legal frameworks for global hiring practices, you can't forget about cultural differences. For instance, will there be a language barrier to overcome? What is the time zone difference between your home base and that of your contingent worker? Someone who's working in New Zealand, for instance, will be about 18 hours ahead of someone working in New York City, making collaboration a little more difficult to navigate. In countries like France, workers are protected by a legally mandated 35-hour workweek. And in Spain, there is a cultural tradition of a "siesta," which is a midafternoon break from the hustle and bustle of daily life.
We have had labor issues simmering under the surface for years, and in May 2021, workers across industries collectively decided that enough was enough. We don't yet know how long the Great Resignation will continue, but smart HR leaders are already looking for better ways to attract and retain talented employees. To eliminate your workforce woes, consider plugging the gaps with contingent workers. Then, watch as your organization becomes stronger, more flexible, and more agile.
Innovative Employee Solutions is a leading global employer of record that specializes in payrolling and contractor management services for today's contingent workforce. Want to hire quickly and compliantly in more than 150 countries to fill skills gaps? To learn more, schedule a FREE 15-minute strategic consultation with an IES contingent workforce expert today or download our whitepaper, "Hiring Contingent Workers From Other Countries."
Written by: Sara Jensen, Vice President of Business Development at IES
Sara Jensen is the vice president of business development at Innovative Employee Solutions (IES), a leading global employer of record in more than 150 countries that specializes in payrolling and contractor management services for today's contingent workforce. Founded in 1974 in San Diego, IES has grown into one of the city's largest women-owned businesses and has been named one of its "Best Places to Work" for 10 years in a row.
Related Articles