You Have Questions, We Have Answers

"How does a U.S. – based company test out a new market in Singapore?"

"How can a U.K. – based company hire a candidate with a specific needed skillset but is based in Brazil?"

"What employment taxes and other mandated benefits are required for hiring in Germany?"
---
Build Your Global Bridge with an Employer of Record
We're living in a borderless world. Working across time zones, languages and currencies is becoming more and more commonplace for both small and large companies.
That's because expanding a business globally and growing your operations into global markets has many benefits. From greater workplace flexibility to a larger talent pool, borderless businesses are riding the wave of the future.
However, engaging international workers or integrating a globalized workforce is not without risks and challenges.
As organizations engage skilled talent across the globe, they learn there's a component that they may not be ready for: employment laws, regulations, and registrations of a new market or country.
That's where a partner like IES comes in — global employment solutions. With IES, international compliance can be simple. Partnering with IES allows businesses to access talent across borders and ensures compliant employment, all without having to set up a business entity in each country.
---
You find the talent. We do the rest.
Engaging global talent? With IES global workforce solutions, you can hire and onboard new talent quickly and compliantly without having to set up a business entity. Stay focused on the core business while we do the rest.
Hire and onboard workers, nearly anywhere in the world, anytime. Save your organization time and money with IES global workforce solutions.
---
Global Workforce Solutions
Engaging global talent can be complex and time consuming. At IES, we make the complex, simple. Partnering with IES delivers significant advantages that leads businesses to success.
We help companies expand their operations in more than 150 countries.
Global EOR Service Benefits:
Geographic Expansion
Engage Skilled Talent Across the Globe
Compliance and Risk Mitigation
Fast Onboarding
Payroll and Benefits
Cost and Time savings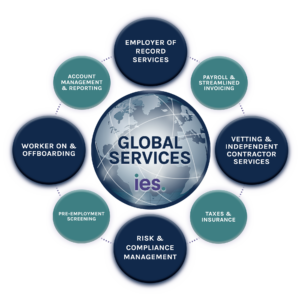 ---
IES has decades of experience in handling the employment, payroll and compliance for our clients so they can focus on what they do best – growing their business. With IES's Global Services, you can access these benefits and more.
Engage Your Talent Quickly, Easily, and Compliantly
Turnkey Workforce Solutions without Borders
Global Employment Expertise
Smart Growth with Scalable Processes
Effectively Manage Your Global Workforce