4 Ways an EOR Partnership Can Benefit Your Staffing Company

Posted on December 13th, 2022 Read time: 3 minutes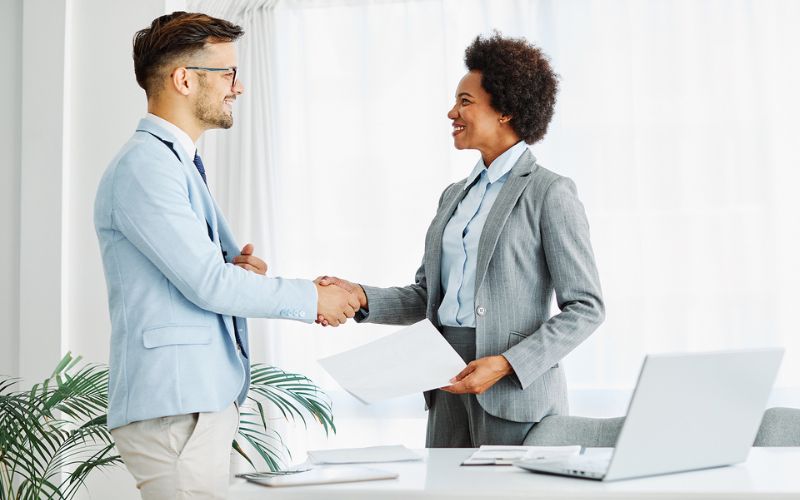 Employer of record partners can be exactly the boost your staffing agency needs right now. If you're looking to engage more workers, whether remote, in office, or hybrid, a partnership with an EOR will help expand your reach. An EOR manages the onboarding process, ensuring all benefits, workers' compensation, and onboarding are handled compliantly while making certain all legal and compliance requirements are met.
As a staffing agency looking to expand your reach, it is helpful to understand the benefits of an employer of record partnership. An EOR has already established a nationwide or global coverage area, allowing staffing agencies to build upon their reach. This enables staffing agencies to focus on securing new contracts and expanding their talent pools. Their EOR partner will handle the legal and compliance burdens, allowing the staffing agency to grow into new areas they couldn't without the EOR partner.
When your staffing firm partners with an EOR and your recruitment team finds the talent, the candidates are then engaged through the EOR. The EOR manages payroll, taxes, and employee benefits and becomes the legal employer of your staffing agency's employees, meaning it is responsible for paying taxes and complying with employment laws. So, your staffing firm finds and secures talented workers while your EOR partner payrolls them during the duration of the contract.
Benefits of EOR-Staffing Agency Partnerships
EORs and staffing agencies can make effective and strategic partners for mutual growth by splitting the responsibilities of temporary staffing engagements. The staffing agency specializes in step one: sourcing and recruiting qualified talent. The EOR comes in at step two: payroll and compliance.
There are numerous benefits of an employer of record working with a staffing agency, including:
Scalability
One of the biggest, most crucial parts of a partnership between an EOR and your staffing agency is the ability to scale. Staffing agencies are often limited to their available cash flow or credit lines, limiting the number of workers they can payroll at a time. So, if your staffing firm has limited cash flow, then leaning on an EOR partner to fund payroll and handle client collections is a huge benefit.
Onboarding
According to a report by SHRM, the average cost to hire is $4,683. Onboarding new employees can be a time-consuming and costly process, but an EOR can take care of all the necessary administrative paperwork and procedures, allowing you to focus efforts on your core business. Instead of spending time and money setting up your staffing agency in whatever states you want to onboard workers, partner with an EOR and more easily extend your reach.
Global Reach
If your business is engaging talent globally, partnering with an EOR with global capabilities, or a global EOR, can help you engage talent in many countries and ensure you stay compliant with all local employment laws, international payroll and taxes, and offboarding requirements. This gives you the ability to engage the global talent you need without the additional burdens of setting up international business entities in each location and relieves a compliance burden for your HR team.
Benefits Management
Did you know an EOR can provide attractive benefits plans to your employees, including comprehensive medical, dental, and vision plans? Additionally, many competitive plans offer flexible spending accounts; retirement accounts; other supplementary benefits, such as hospital indemnity plans and long-term disability insurance; and employee perks.
Managing benefits is a complex process for human resources, requiring a strong understanding of labor laws and compliance legislation and hours of administrative work. An EOR can handle all this for you, freeing up your time to focus on what you do best: recruiting top talent.
There are many reasons a staffing agency and an employer of record make great partners. They each offer something unique that allows both parties to concentrate on the most strategic tasks for their businesses.
The future of work is now. Learn more about partnering with Innovative Employee Solutions, a global EOR and leading provider of global workforce solutions. Contact us today to learn how we can help you quickly and compliantly engage workers anytime, anywhere in more than 150 countries.
Written By: Antonio Barraza, Senior Business Development Representative at IES
Antonio Barraza is a Senior Business Development Representative and contingent workforce expert at Innovative Employee Solutions (IES), a leading global employer of record in more than 150 countries that specializes in payrolling and contractor management services for today's contingent workforce. Founded in 1974, IES has grown into one of San Diego's largest women-owned businesses and been named one of the city's "Best Places to Work" for 11 years.
Related Articles