Recruiting a Diverse & Inclusive Workforce in 2020

Posted on July 30th, 2020 Read time: 3 minutes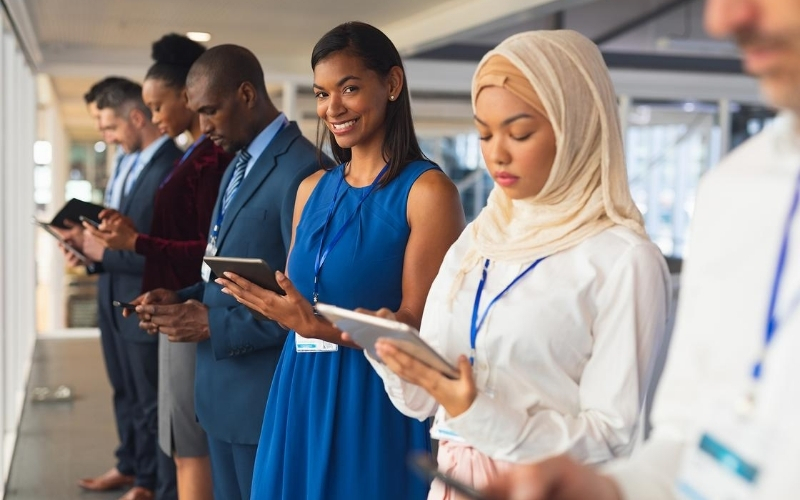 Increasingly in the last decade businesses have prioritized diversity in the workplace as a business strategy that maximizes productivity, creativity and loyalty of employees while meeting the needs of their clients or customers. If a company is only as good as their employees, then it stands to reason that a great deal of energy should be devoted to hiring the most talented individuals. By branching out to a diverse workforce, employers have access to a greater pool of candidates thereby improving the odds of hiring the best person. In a competitive marketplace, an organization that puts people first – regardless of their race, religion, gender, age, sexual preference, or physical disability has an advantage over the other players.
These businesses understand that as the workforce has become more diverse so is your market. Employees who mirror the customers you serve can benefit an organization since they will feel as if they hold a common ground. Furthermore, employees with different perspectives can help provide companies with a holistic view of the market, identify unmet needs and identify new opportunities. As the value of diversity continues to grow in the business community and elsewhere, recruiting and retaining diverse employees has proven to be even more important to continued organizational success.
With higher unemployment in 2020 organizations may find recruiting for talent slightly improved over years past.  However, retaining employees during this moment of turmoil is critical and recognized by leaders as top priority. By creating an environment where all employees feel included, represented and valued helps to produce greater employee commitment and motivation. It also means fewer resources spent on training and turnover. By recognizing employee's uniqueness and appreciating their varied perspectives helps ensure an inclusive work environment where awareness of, and respect for, different cultures is promoted.
Although today's diversity discussions are mostly centered around the inequities in the black community, diversity initiatives target all types of diversity including age, gender, disabilities, national origin, veteran status, and sexual orientation to name a few.
There are several steps that organizations can and should take to promote a diverse and inclusive work environment:
Understand the business objectives.
Organizations that have a diverse workforce perform better than others financially.  As if that's not enough of a reason, companies increasingly are expected to do better in this area as a whole by external stakeholders such as customers, community leaders and business partners.  Identify the gaps in your company and explore strategies to make change.
Seek buy-in from your leaders.
Educate the organization's leaders about the business necessity and the ROI of a D&I program.  Without their support your chances of success reduce.
Develop a Diversity & Inclusion policy and publicize it.
Your policy should set formal goals and strategies pertaining to creating an equal opportunity environment. Once your policy is in place it should be made public both internally and externally.
Write job descriptions as to not exclude anyone.
Your job description should clearly be written for all types of applicants and should in no way discriminate.
Publicize job openings in different venues to attract a diverse workforce.
Look beyond obvious recruitment methods and venues for good people. There are many sites online that help facilitate equal opportunity employment and include: Yahoo!, En Espanol, Diversity Inc, America's Job Bank, The Society of Hispanic Professional Engineers, the Society of Women Engineers, the National Society of Black Engineers, and the Black Executive Exchange program.
Listen to your employees.
Many organizations are creating forums for employees to share stories and learn from each other through open conversation. Once the appropriate steps are taken, learning how to manage the diverse and inclusive workforce will take some time. It requires education, sensitivity and awareness of how individuals from different cultures handle communication, business etiquette, and relate to management. Promoting workforce diversity and inclusion requires HR recruitment of competent and qualified employees and the accommodation of individual needs within the context of the work team and the organization.
Whatever challenges diversity may create, the benefits far outweigh the costs. Diversity allows for flexibility within an organization thereby strengthening the ability to respond to changing environments and demands which are critical to ensuring that your organization stays competitive in the global economy.
Written by: Tania Fiero, Chief Human Resources Officer at IES
Tania Fiero is Chief Human Resources Officer at Innovative Employee Solutions (IES), a leading global Employer of Record in more than 150 countries that specializes in contingent workforce solutions such as outsourced payrolling, independent contractor compliance, and contractor management services. Founded in 1974, IES has grown into one of San Diego's largest women-owned businesses and has been named one of the city's "Best Places to Work" for 10 years in a row.
Related Articles