When Your Organization Can Benefit from an Employer of Record Partner

Posted on February 9th, 2023 Read time: 3 minutes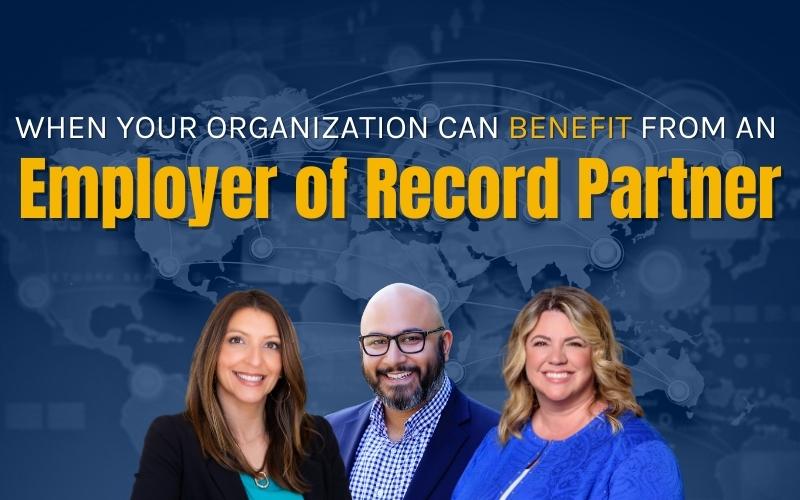 When looking for help with employment and compliance tasks for remote or contingent workers, businesses don't always know what an employer of record provider can do for them. It's not just payroll processing –  an employer of record (EOR) can help in many more ways. And it's especially useful for expanding businesses or those needing temporary help.
An EOR can save companies time and money while also keeping them compliant. Companies that handle HR tasks in-house for contingent workers can spend up to 18 percent more than the ones that outsource these tasks, according to the PwC study "The Hidden Reality of Payroll and HR Administration Costs." For companies that work with direct-sourced remote, temporary, seasonal, or project-based workers, an EOR partner can provide clear benefits – risk mitigation and cost savings.
Liabilities related to both the employee and the employer are part of the EOR's responsibilities. A client of the EOR doesn't have to worry about managing the employment compliance, payroll processing, tax withholdings/remittance, and benefit administration.
Think about all the details a business must keep in mind. Benefits for its contingent workforce, such as flexible spending accounts, pension/retirement accounts , general liability insurance, and health insurance are all maintained/managed by the EOR. EOR's also ensure compliance with local, state and country employment laws and mandates. For companies with contingent workers across multiple states or countries, this can provide significant risk mitigation and can be a huge time savings. Innovative Employee Solutions (IES) saves their clients on average approximately 80 hours per week in HR and administrative duties handling compliance with varying laws and regulations in the different states and countries of the client's engaged workers.
But beyond working with remote and contingent workers, why would a company ever need an EOR partner?
Partnering with an Employer of Record
Partnering with an employer of record can remove barriers to growth, allowing you to engage the right talent quickly and compliantly.
So how do businesses determine whether they should partner with an Employer of Record company? Here are a few examples of businesses that could benefit:
Businesses that are expanding to another state or country but aren't licensed there yet
An EOR can help by hiring and paying employees in the new location, handling all of the compliance for the employment of the individual(s) in question. The employer of record can work with a company indefinitely or for a shorter period of time if the company decides at some point in the future to go through the process to set up a business entity and hire the workers direct.
Businesses that are looking for flexibility or agility in their workforce
These days, the ability to quickly and strategically ramp up or ramp down a company's workforce can be a powerful tool for many businesses. Business leaders are realizing that strategically using contingent workers (temporary/project-based workers, freelancers, Independent Contractors, etc.)  to supplement their direct workforce is a key way to acquiring new skills and capabilities without adding headcount.
Staffing companies that need back-office support for contract and remote/global placements
Hiring a payrolling provider to handle compliance, onboarding, payroll funding and administration, benefits, etc., saves significant time for a staffing company, allowing the business to focus on what it does best: finding top talent for clients.
Small businesses that need additional staff
Unfortunately, many small businesses don't have the time or knowledge to work on the administrative functions of processing paperwork and setting up payroll. An employer of record can handle processing employees' salaries, benefits, and much more.
Based on these examples, do you have a better idea of your company's Employer of Record needs?
How one company benefited
IES recently worked with a leading technology company that had more than 80 international locations. The organization needed to find a service provider that could assist with payroll and HR administrative services for its contingent workforce across the United States.
IES worked with the company to implement an Employer of Record solution that, not only saved time and money, but also kept them compliant with the employment laws and mandates across the various cities and states.
As a result, the company increased it's compliance, saved 25 percent on employment costs for more than 45 employees, and it now spends 20 percent less time on administrative tasks associated with payroll processing and employment management/compliance.
There are many benefits of partnering with an Employer of Record company. And if businesses find that they could use these services, it's time to find a provider. For more information on what IES can do for your business, please contact us. We are ready to design a solution for you.
Written by: Sara Jensen, SVP, Growth & Strategy
Sara Jensen is the is the senior vice president of growth & strategy at Innovative Employee Solutions (IES), a leading provider of remote and contingent workforce solutions, specializing in global Employer of Record, Agent of Record and Independent Contractor compliance services in 150+ countries. Founded in 1974, IES is a woman-owned business, certified by the WBENC and partners with companies to provide compliant employment solutions that empowers people's lives.
Related Articles