What You Need to Know About Creating a Global Hiring Strategy

Posted on July 29th, 2022 Read time: 6 minutes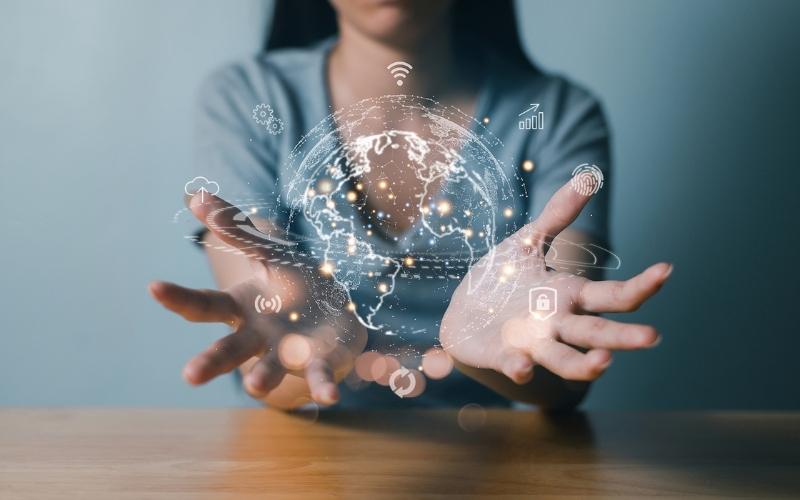 The way we hire has changed so drastically in recent years that it is almost unrecognizable. Since the COVID-19 pandemic disrupted nearly every facet of the working world, we have learned how to embrace flexibility, remote and hybrid working, and communication through screens.
Meanwhile, the disruption of our personal lives has led many of us to completely reconsider our careers. Pandemic-induced layoffs and the Great Resignation have spurred on a massive shift. Employees left jobs they had been in for decades in favor of rediscovering what they enjoy and what's important to them. As a result, finding and retaining great talent has become increasingly challenging for companies. In fact, 73% of businesses are struggling to find the people they need.
The pandemic hasn't been the only factor shaping this hiring crisis. Political unrest, war, rising inflation and cost of living, and resource scarcity have all led to more challenging environments and conditions for businesses and fueled the worker-driven employment market.
Why Does a Global Hiring Strategy Make Sense Now?
Now more than ever, the benefits of hiring globally are needed. Employees are rethinking everything when it comes to their careers.
Compensation and flexibility are increasingly important, and workers are holding out for opportunities they see as worthy of their valuable time. People getting used to remote working styles are exploring increased flexibility, the desire to make their own working hours, and the need for more disposable income to survive the rising cost of living and make the most of their bold career decisions.
According to a survey by Gallup, pay and benefits (factors that have always been top of mind for new hires) have become even more critical to job seekers, with 64% of them considering it a top factor in accepting a new position. Well-being and work-life balance have also soared in importance. Employees are burned out, unimpressed with the status quo, and fighting for the change they need.
Why is a global hiring strategy emerging as the way to handle all this change?
For employers, a global mindset expands the available talent pool. Talent has been unprecedentedly hard to find, recruit, and retain. So, smart and forward-thinking companies have been looking at new ways to find the talent they need and have discovered that great talent can be found across the globe.
There are many benefits of companies going global to find skilled workers. Removing geographical limits means employers can access wider, more diverse talent pools. They can choose the best talent based on skill and experience rather than geographic location, making it easier to fill highly specialized roles with contingent workers who have exactly the right expertise.
While employers gain access to the skill sets they need, they also open their companies up to diverse backgrounds, cultures, and ways of thinking they might never have worked with before. This new energy helps foster innovation and creativity and can ultimately aid in increasing the bottom line.
When it comes to developing a business model, hiring globally can also help companies make their next strategic moves. Businesses with the potential to expand into new markets abroad often find that hiring is a wise first step: Having boots on the ground is a great way to test the viability of a new market, ease expansion challenges, and pave the way for a successful move.
Global strategies can also benefit current employees. With all employees dealing with the fallout of the pandemic, even those who stay at their current companies need to feel more engaged and motivated. The addition of global workers can boost the morale of existing employees, providing fresh creative challenges and input, as well as social stimuli.
What Challenges Does Global Hiring Present?
Though the potential benefits of hiring globally are game-changing, not every company will be ready for what a global strategy involves.
Challenges will abound for organizations just starting to hire in other countries. The need to understand employment laws and compliance, for example, is vital. Cultural differences will need sensitive navigation, and team members will need to embrace a period of learning. That's not to mention the logistical challenges, such as different time zones, vacation days and holidays, and language barriers.
As they form global strategies, leaders must accept that an international workforce is a completely different beast to manage from an all-U.S. workforce. Going from at-will employment to other forms of employment contracts, adjusting notice periods and leave entitlements, and doing it all without getting into regulatory hot water will require extreme effort and lots of support.
But the benefits to be gained by employees, employers, and the company as a whole are well worth the effort.
The Core Elements of a Global Hiring Strategy
The benefits of creating a global hiring strategy are clear, but how should employers actually go about it? What are the requirements of a global recruitment strategy, and how much do you need to know about hiring international employees before you begin? These tips are excellent places to start:
Start with some country-specific knowledge.
Your global strategy needs to be based on the employment laws and requirements in the country or countries you are looking to hire in. Some countries are more complicated to hire in than others, so it is important to understand what it means to have an employee in that country. This will form the foundation of your strategy. With this knowledge, you can then decide if your company has the bandwidth, desire, and resources to make hiring globally a reality.
Find expansion partners.
When forming your strategy around how to recruit globally, partners will help you stay within the realms of possibility and keep you from making costly regulatory or hiring mistakes. An employer of record (or EOR) is an agency partner that acts as a legal employer for your hiring needs, taking on compliance and organizational tasks such as onboarding, payroll, and tax withholdings and filing documents, which will inevitably vary per country.
Test before you invest.
A global hiring strategy should include ways to test different options before setting up an office in another country. For example, by working with an employer of record within a particular country, you can test the waters within that market to validate which country or countries are bringing the most success to your organization.
Spread the word strategically.
Testing exposes the activities you need to focus on when it comes to finding and recruiting talent abroad. That could mean placing ads in relevant online spots, getting internal referrals, or using staffing partners or talent acquisition platforms to find the skilled workers you need.
Plan for cultural education.
Embracing globalization means embracing new norms, cultural idioms, and expectations. Part of your global hiring strategy, therefore, should be educating yourself and your team about all the differences and similarities you can expect to find in the new country, and how these will change the ways people work.
Once you've got the core parts of your hiring strategy ready, you can think about the nitty gritty of actually hiring globalworkers.
How Do You Write Global Employment Offers?
As you begin drafting your global hiring strategy, giving your HR team a basic education in contracts is essential. What do employers need to include in global employment contracts? How do you go about writing an offer letter for a worker in a different country? What needs to be included?
First, it's important to note that each country has different legal requirements for employment contracts and features such as compensation, work hours, leave entitlement, and notice requirements. To avoid regulatory trouble, you must do thorough research on the specific country you're hiring in.
If you outsource to an employer of record partner, they are responsible for crafting a compliant employment contract and can handle any contract issues that arise. An EOR's goal is to ensure all employment contracts fulfill the country's regulatory requirements and that you continue to meet those contractual obligations in practice.
Knowing a little about the different types of international employment contracts can be empowering. The most common types are:
Fixed-term contracts.
These contracts cover employment relationships with defined timeframes and end dates. They vary from country to country, with some countries having strict and very defined reasons as to when a fixed-term contract is allowed and when it is not.
Indefinite contracts. 
These are contracts where the employment is open-ended, with no defined end date. The period of employment continues indefinitely until either party terminates the contract, as per the notice periods and requirements laid out in the contract.
It's important to recognize that most countries beyond the U.S. don't often recognize at-will employment. Global employment contracts tend to stipulate the terms in which an employee can be let go and generally favor the employee when it comes to notice periods and severance.
The more knowledge you have about recruiting and hiring in the United States versus globally, the better prepared you are to make smart hiring decisions, take advantage of the benefits of hiring globally, and find the best talent to add to your team.
What's Next for Your Global Hiring Strategy?
Compliance with employment laws is not a one-size-fits-all approach. Employment varies by country, so it is crucial to understand the laws and regulations of each country in which you want to hire.
Innovative Employee Solutions is a leading provider of global workforce solutions, an Employer of Record, and an Agent of Record. Contact IES today to learn how we can help you quickly and compliantly engage global workers anytime and anywhere in over 150 countries.
Written by: Sara Jensen, Senior Vice President of Growth and Strategy at IES
Sara Jensen is the senior vice president of growth and strategy at Innovative Employee Solutions (IES), a leading global employer of record in more than 150 countries that specializes in payrolling and contractor management services for today's contingent workforce. Founded in 1974 in San Diego, IES has grown into one of the city's largest women-owned businesses and has been named one of its "Best Places to Work" for 10 years in a row.
Related Articles