The Time Is Now: How to Improve Your Company's Internship Program for Remote Work

Posted on May 20th, 2021 Read time: 3 minutes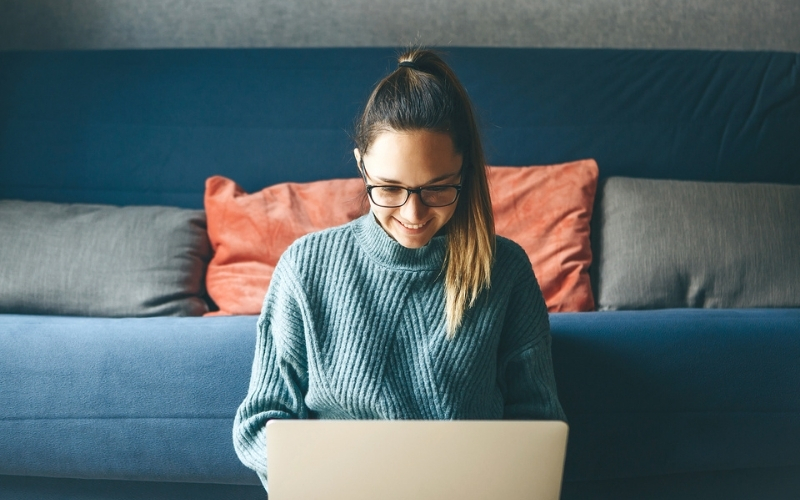 In 2020, COVID-19 adversely affected the number of internships available to students and new entrants to the workforce. Although some organizations — especially larger ones — were able to pivot their internship programs online, others were not as fortunate. In fact, 22% of internship offers were revoked last spring due to the pandemic.
That's why now is a great time to think about creating an internship program at your company. With fewer organizations offering them, you have your pick of high-quality candidates. In addition to providing your team with help, setting up an internship program helps students get back on track after a year of constant change.
Even if you've had great internship programs in the past, understanding how to develop a successful internship program remotely amid a continued pandemic requires a different strategy.
How to Develop a Successful Internship Remotely
Employers that shifted their internship programs online during the pandemic scrambled to put together meaningful work in a virtual world. After all, any internship done remotely should promote the same goals as an on-site internship.
One of the main benefits of having an internship program is to increase your talent pool for potential new hires. Additionally, successful internship programs can increase recognition and brand awareness while reducing staffing costs. The benefits for the students is to network, engage in meaningful work that elevates their resume, and gain competitive advantages over other job candidates. By the end of the program, an intern should be well-versed in your company and a top candidate for hire.
However, the process of creating an internship program at your company during a worldwide health crisis might look different than in previous years. You will need to implement processes that take the safety of your company, staff, and interns into account. Here are some concerns to take into consideration:
•  How to onboard interns with issuance of technology resources and security processes.
•  How to assign work, train, and communicate progress throughout the internship.
•  How to foster meaningful discussions and collaboration between interns, staff, and leaders within your organization.
•  How to assess the success of the interns and the value the organization received.
There are two key objectives to remember as you develop an internship program for the current workplace environment. Keeping these in mind as you create a remote work internship program will help ensure its success:
Determine your organization's goals for the internship program.
A new remote internship program might have short-term rather than long-term goals. For example, short-term goals might be to find one or two new hires for the year or to increase full-time employee morale. For a more established program, you might want to focus on creating brand awareness and recognition in your industry. No matter your goals, focusing on them while you build out the program will ensure it meets your (and your interns') needs.
Create your program with the intern experience in mind.
Successful remote internship programs are those that produce a positive, memorable experience for the interns. This result is only possible if the program contains multiple aspects. Rather than keep interns siloed, allow them to branch out in the organization. Consider these suggestions to improve your internship program experience:
•  Be sure that the manager and intern are clear on the objectives of the internship and work together to determine a cadence for check-ins and the format in which they will occur.
•  Offer additional training outside of the job the intern is assigned to do. For example, if your company has internal training on topics such as innovation, collaboration, and teamwork, put your interns through that training. You could also offer them opportunities to join your company's internal interest groups (such as book clubs).
•  Provide networking opportunities with other team members, even if they're remote. You can make the experience more interesting by having scripted questions such as, "What's the most embarrassing thing you did when you were new to the field?" or, "What is one piece of advice you'd give to college graduates?"
•  Host virtual happy hours to help interns (and the rest of your team) build social connections. A fun game to play remotely might be Two Truths and a Lie or Name That Tune. They're sure to spark conversations!
Now more than ever, interns need our help to create their futures as they feel the effects of the pandemic. Research shows that 70% of companies offer full-time jobs to their interns, and 80% of interns accept those positions. So, creating a remote internship program at your company is not only a boon for your business, but can also help set students on amazing career trajectories.
Whether you're engaging interns for the summer or ramping up contingent staff to help achieve company objectives, Innovative Employee Solutions makes hiring interns easy by handling all aspects of employment, compliance, and administration. Learn more about streamlining your internship programs here.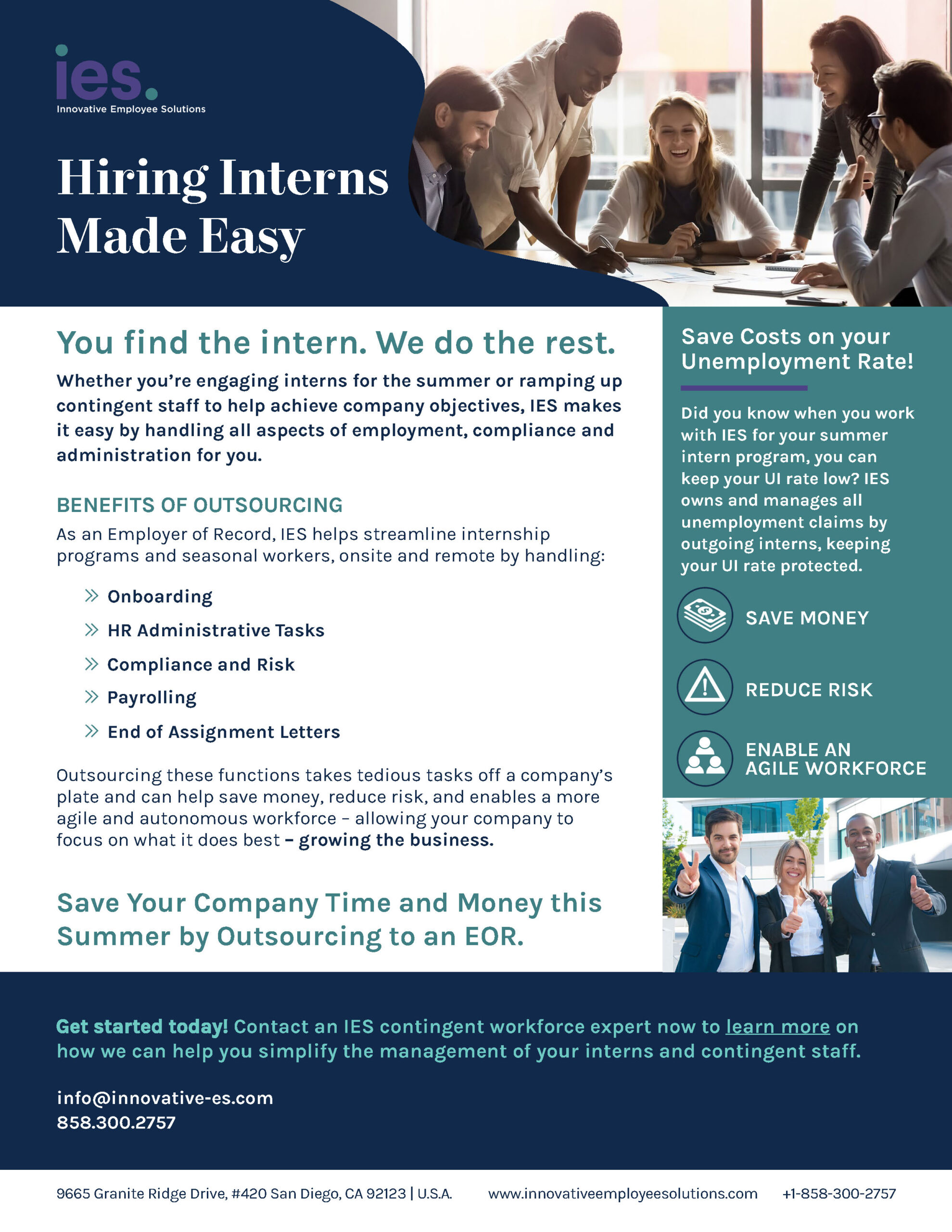 Written by: Tania Fiero, Chief Human Resources Officer
Tania Fiero is the chief human resources officer at Innovative Employee Solutions (IES), a leading global employer of record in more than 150 countries that specializes in payrolling and contractor management services for today's contingent workforce. Founded in 1974 in San Diego, IES has grown into one of the city's largest women-owned businesses and has been named one of its "Best Places to Work" for 10 years in a row.
Related Articles