PEO vs. EOR: Which Is Right for Your Business Needs?

Posted on January 23rd, 2023 Read time: 4 minutes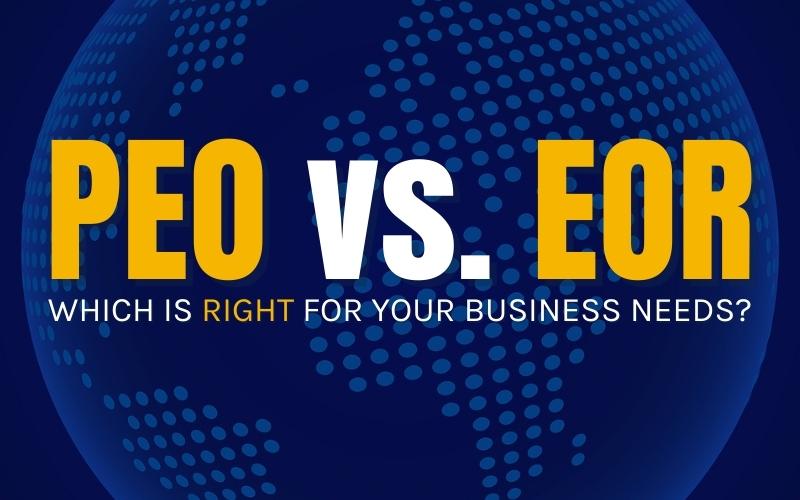 Although similar on the surface, professional employer organizations (or PEOs) and employers of record (or EORs) operate under vastly different business models — and the biggest difference between PEOs and EORs can be summed up in two words: partner status.
PEOs serve as your co-employer partner, whereas EORs serve as the legal employer of your dispersed workforce. Both are designed to outsource all your HR, benefits, payroll, taxes, and insurance needs, but a PEO works with your entire workforce, while an EOR works with only a subset.
As a result, your business might require a local entity wherever you're employing remote workers with the help of a PEO. Your PEO partner will likely require you to convert all team members to its services, not just a subset of, say, remote workers. EORs don't operate that way, which is why an increasing number of companies are now turning to this service.
Part of this also has to do with the greater flexibility of EORs. However, the renewed interest is more so driven by the nature of work these days. Remote work has become the new norm and led many employees to reconsider where they're living, often relocating nowhere near their employers. In fact, a recent survey by Upwork found that 13% of people are moving two to four hours away from their companies' offices. Even more (28%) are moving further than four hours outside the vicinity of their headquarters. The ability to work remotely simply offers the opportunity to live wherever, with no thought of the commute.
Understanding PEOs vs. EORs
PEOs and EORs can help ramp up business operations, even in other locations and globally. And if companies want to successfully engage employees who no longer live within commutable distances of operations, EORs and PEOs can certainly make this possible. Understand, however, that the two different business models bring two distinct sets of services; the decision of which direction to go depends on your workforce strategy. When debating an EOR versus a PEO, remember that choosing the wrong one can put you in the unfortunate position of not only experiencing less-than-ideal results, but also putting your business at legal risk.
With that in mind, let's take a quick look at where the two differ the most:
Employee minimums
As already noted, PEOs might require you to convert all team members under their services. If not, most set staffing minimums of usually at least five to 10 employees. That's not the case with EORs. Rarely will EORs require staffing minimums, as they're often used to hire contract or temporary workers. This makes an EOR the ideal choice for companies with employees who have moved to states or countries they are not registered to do business in.
If, for example, your firm were to win a big contract, you might only need to supplement your staff for a short duration of time with extra contract workers. An EOR can employ just that subset of workers until that project ends. The same would be true for seasonal workers. Although a PEO can handle either scenario, it is likely they will also require your main subset of full-time workers to be on their plan as well.
One important note: EORs do have limitations. They cannot legally take on your entire workforce. They must also be licensed PEOs to provide such a service. But an EOR could serve as a steppingstone until your business meets the minimum staff required by a PEO if that's your goal.
Operational control
Though both EORs and PEOs offer HR, taxes, benefits, and insurance outsourcing, the latter will usually require full control and ask that all current employees come onto their payroll. From onboarding and separations to employee reviews and contracts, PEOs will handle it all.
With EORs, you have the option of outsourcing only a portion of the HR work, taking on the administrative duties for just the contract or seasonal workers that the EOR employs on your behalf. EORs are experts in the Fair Labor Standards Act and other employment laws, so you can rest easy that everything meets the requirements of the state or country where these workers are located.
Business registration
EORs and PEOs can offer similar services in regard to business registration. Both file taxes under their own employer identification number (or EIN) — but not all PEOs offer this option. What's more, you might need to register in the state where you're hiring workers under the PEO model. EORs, on the other hand, can serve this purpose, and your company does not have to be registered in that state or country to do so.
Although the registration process isn't terribly complex (at least not in every state), this is something to consider for C corporations, S corporations, and limited liability companies.
Insurance coverage
No matter the EOR you partner with, part of the service is general liability and workers' compensation insurance coverage. The EOR serves as the employer of record, so they are required to carry all of the insurance coverage needed to conduct business, such as general and professional liability and workers' compensation insurance.
PEOs might not secure such coverage on your behalf, requiring your business to carry its own policies. Actually, PEOs often run into difficulties obtaining workers' compensation in nonclerical industries. In these scenarios, you might need to insure the workers yourself.
Determining whether an EOR versus a PEO fulfills your specific business needs usually calls for an in-depth consultation with both providers. EORs have concrete parameters around what they can accommodate and should easily be able to let you know if they can help or if a PEO would be best for you. If you'd like to schedule such a consultation, contact IES today. We were just named one of the top 10 best employers of record for 2023, and we'd be more than happy to meet with you and discuss your current workforce strategy.
Written By: Kara Hertzog, President of Innovative Employee Solutions
Kara Hertzog is president of Innovative Employee Solutions (IES), a leading provider of remote and contingent workforce solutions, specializing in global Employer of Record, Agent of Record and Independent Contractor compliance services in 150+ countries. Founded in 1974, IES is a woman-owned business, certified by the WBENC and partners with companies to provide compliant employment solutions that empowers people's lives.
Related Articles