How DEI Initiatives Help Attract and Retain Skilled Talent for a Better Organization

Posted on June 28th, 2022 Read time: 4 minutes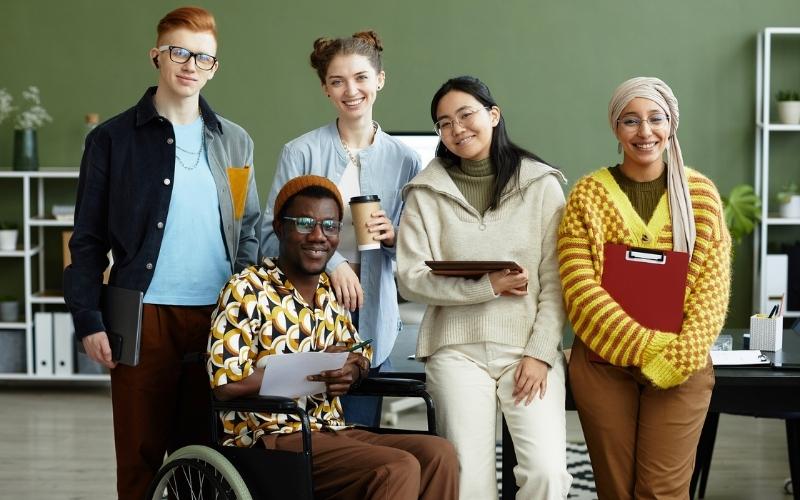 The last few years have taught invaluable lessons, and one of the most important of them was that of a diverse workforce. Diversity, equity, and inclusion went from being an abstract concept to a wake-up call, forcing companies to rethink their personnel operations. Businesses are now taking hard looks at their hiring practices and understanding the importance of diverse leadership.
But what is DEI in the workplace? DEI refers to strategies, policies, and practices that further a company's mission to create an inclusive environment, no matter an employee's race, ethnicity, gender, age, marital status, socioeconomic status, and more. The goal of DEI is to create a positive company culture, increase engagement, and build a better organization by valuing what each employee brings to the table. A diverse workforce means diverse perspectives, which can drive both people and businesses forward.
It should go without saying that when companies commit to DEI, they are much more likely to engage current employees and attract top talent in a tight labor market. In fact, 86% of candidates say DEI is important to them. What does this mean for your organization? Diverse hiring practices and ongoing DEIefforts ensure that your company is full of invested employees who will back your organization's mission and stick with you.
How DEI Initiatives and Top Talent Attraction Work Synergistically
In the era of the Great Resignation, or the Great Reshuffle, it's more important than ever for your company to attract and retain skilled talent. Candidates are examining their priorities closely and are only considering companies that authentically live their values and put people first. This is a crucial component of talent optimization, or the process of aligning business strategies and people strategies to deliver the best results.
Talent optimization uses data and analyses to engage talent and achieve business goals. Furthermore, it helps predict workplace behavior, build high-performing teams, and create an excellent company culture that enables leaders to manage employees effectively. For example, when you post a diversity commitment statement conspicuously on your careers page, you should also communicate to potential candidates that you value people from all backgrounds. When you do this, candidates can better understand your mission and how your organization reaches its goals. They will then look forward to working for your company.
So, how can your company integrate DEI into its culture? First, incorporate it into your recruitment strategy. Omit names and addresses from résumés and train your recruitment team to remove unconscious bias in the recruitment process. Next, prominently display your company's diversity statement on the website, especially on your careers page. As mentioned earlier, this shows outward commitment to DEI. Further, expand your talent pipeline by making more roles remote-friendly. This enables you to reach skilled talent across the globe, making your workforce more diverse and able to perform at higher levels.
Why DEI Is Integral to Future Success
As we've shown, improving DEI and attracting and retaining top talent go hand in hand. However, there are other benefits to implementing DEI initiatives outside of recruitment. Here are the most important benefits of embracing DEI throughout your organization:
Better innovation.
As most company leaders know, organizations will die without innovation. DEIis essential to business innovation because it encourages new ideas. According to a study by Boston Consulting Group, companies with high diversity in their leadership teams generated almost 20% more innovation revenue than those with below-average diversity. Further, the same study revealed that even a slightly more diverse leadership team improved a company's capacity to innovate.
An enhanced brand.
Did you know that most job applicants take a detailed look at your brand when considering whether they should apply? When companies prioritize diversity in their communications, recruitment processes, and training materials, it makes their brands more attractive to potential employees.
Typically, diversity discussions focus on racial or gender diversity, but you can also diversify your workforce by hiring freelancers, contractors, and other nontraditional workers. This signifies that your company values the talent and capabilities everyone brings to the table, regardless of their background, identity, or employment arrangement.
Improved financial performance.
According to Harvard Business Review, venture capitalist organizations and investors are more apt to work with people who share their race or gender. Their propensity to invest in someone increases by more than 39% when they belong to the same racial group as the person.
So, it's essential to have a diverse group of people on your team to encourage more diverse investors. Plus, companies with diverse teams often achieve higher earnings than those with less diverse employees and lower diversity scores.
Over the past few years, companies have become more familiar with the benefits of DEI in the workforce, but it's now absolutely vital for attracting quality candidates. To improve business processes and move your company forward, you need diverse leadership and a diverse candidate pool. By prioritizing DEI, you not only transform your company for the better, but you also keep the best talent in your pipeline as you continue to grow in the future.
Written by: Sara Jensen, Senior Vice President of Growth & Strategy at IES
Sara Jensen is the senior vice president of growth & strategy at Innovative Employee Solutions (IES), a leading global employer of record in more than 150 countries that specializes in payrolling and contractor management services for today's contingent workforce. Founded in 1974 in San Diego, IES has grown into one of the city's largest women-owned businesses and has been named one of its "Best Places to Work" for 10 years in a row.
Related Articles