The Hybrid Work Model Is Here to Stay. Here's How to Create a Workplace Strategy That Sets Your Company Up for Success.

Posted on January 30th, 2022 Read time: 8 minutes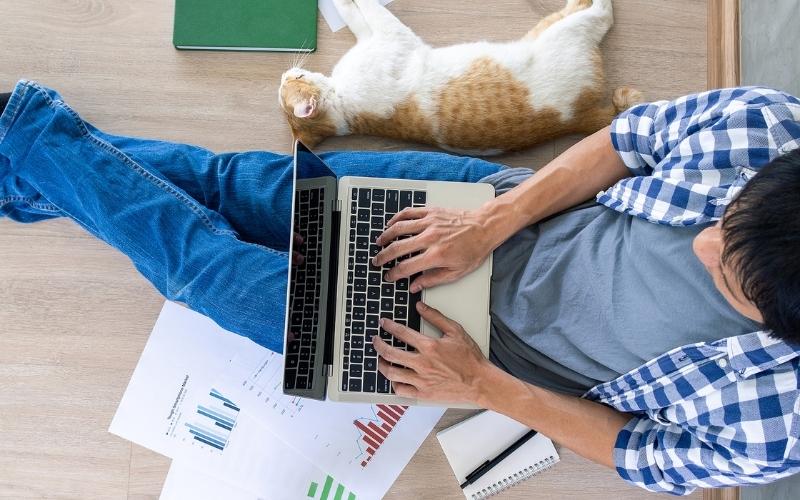 We're in a worker-centric market, putting companies in steep competition to recruit and retain the talent they need. Workers have more powerful than ever and are comfortable leaving their current positions to find jobs that better meet their needs and workplace expectations. Through November 2021, in fact, more than 3.9 million people on average quit their jobs per month. And by the end of November 2021, there were 10.6 million job openings in the U.S. As a best practice for recruiting and retaining talented employees in this worker-centric environment, many companies have decided to keep or adopt permanent hybrid work models.
Hybrid working environments have become the new normal since the start of the pandemic, and many employees simply aren't willing to give up flexible work arrangements that allow for both in-person and remote opportunities. Remote work is an especially high priority for Millennials and Generation Zers, who make up 46% of the U.S. workforce. In one survey by GoodHire, 61% of respondents said they would take a pay cut if it meant they could continue on with working remotely, and around 40% of workers would either quit (or consider quitting) if they had no choice but to return to full-time in-person work. So the best workplace strategy for recruiting and retaining talent is to implement a permanent hybrid work model.
Although hybrid working environments have many benefits, it's not wise to dive into this model without a workplace strategy. There are multiple considerations a company should keep in mind before choosing this route. For example, how many days of the week will workers be required to be in the office? Do you still need a large office, or does it make more sense to downsize to a smaller space? Most importantly, you need to consider how you can implement a hybrid work model and still retain your company culture and internal communication strategies.
The Importance of Company Culture and Robust Internal Communication Strategies in a Hybrid Workplace
Strong company leadership has always been an essential building block of a successful business, but it's even more critical in a hybrid working environment. Many of the historical elements that would naturally create a strong company culture are no longer present when teams are working remotely, so it's essential that managers and leaders play an important role in emulating the culture their company is striving to create. One way leaders can do this is by creating an empathetic line of communication with employees.
Businessolver's "2020 State of Workplace Empathy" report found that 76% of employees believe an empathetic organization inspires more motivation. Furthermore, 79% would choose an empathetic employer even if it meant changing their role, industry, or career path. It's clear empathy is important to employees, but how do leaders create a culture that prioritizes empathetic communication? Checking in frequently to get a pulse on how your employees are doing personally and professionally is a strong first step.
Check-ins can help build trust between managers and employees. They can also help managers see signs of isolation or disconnectedness in remote employees. It's best to conduct check-ins face to face via video or periodically in person, if possible. If face-to-face meetings aren't possible, try shooting over a check-in email or scheduling a phone call to sync up. These conversations will provide your employees the opportunity to express concerns, difficulties, or frustrations. Questions you can ask to help facilitate the conversation include "How are you feeling?" and "How can I help?" Additionally, when conducting employee check-ins, try to listen more than you speak. It's important to give your employees the space they need to express any challenges they're facing so you can help them better navigate the hybrid working environment.
Outside of check-ins, leaders need to create a clear internal communication strategy. After all, collaboration with remote and in-person teams is key to a successful hybrid workplace. To enable successful communication, provide your employees with the technology they need to communicate from wherever they choose to work. Before implementing new communication tools, however, be clear about what kind of collaboration can be done remotely and what kind of collaboration needs to be done in person. For example, your company might decide quarterly strategy meetings should be held in the office, whereas weekly team meetings can be conducted remotely.
An important consideration to keep in mind as you build your internal communications strategy is the frequency in which you communicate with employees in the hybrid working environment. From constant Slack pinging to a growing pile of emails, remote work communication can evoke stress and anxiety in your workforce. In fact, more than half of office workers 40 and under report the volume of emails and Slack/Teams messages they receive as a leading reason for considering leaving their current company. To combat the burnout and stress that constant communication can cause for hybrid workers, create a culture that doesn't make employees feel pressured to respond to messages right away. Encourage your team to set boundaries between being online at work and taking some downtime for themselves.
Lastly, it's important to provide in-person and remote socialization opportunities in a hybrid workplace given that employee satisfaction can increase by almost 50% when someone has a close connection at work. Schedule meetings that aren't strictly work-related to give people the chance to engage with their co-workers and to build and foster stronger relationships. It's not always easy to form relationships from behind a screen, so schedule occasional (optional and safe) meetups to foster those connections and create a strong hybrid work culture.
Logistical Considerations for Building a Hybrid Workplace Strategy the Right Way
More than 91% of employees surveyed by Guru and Loom say they're satisfied or very satisfied with hybrid or work-from-home environments, making it clear that they prefer flexible work arrangements. Furthermore, fewer than 20% of employees who currently work remotely want to return to the office every day. Companies that require people to come back to the office full-time might lose valuable employees to companies that provide flexible work arrangements. If you want to recruit and retain talented people, you need to cater to their preferences by adopting a hybrid work environment. But if you want to also keep your business running smoothly, you need to build your hybrid workplace the right way.
Successfully transitioning to a hybrid work model requires careful planning. By following a few best practices, you can build a workplace that sets your team up for success:
Ask for your team's opinions.
First and foremost, start by seeing what your employees want. You might assume that the majority of your company wants to work in the office a few days a week, though in reality, only a small handful of team members wish to work in person. Try sending out a survey or hosting a virtual meeting where employees can express their working preferences.
Next, consider which departments need to spend more time in the office for your organization to run smoothly and which can easily work from home. This will give leadership the information it needs to create a flexible workplace strategy that works for both your company and your employees.
Consider your office space.
How will a hybrid work model affect your office space? As remote work continues to gain popularity, companies are finding that large office spaces aren't necessary. In fact, 20% of offices are expected to be empty in 2022. Before downsizing, however, consider what your employees' working preferences might be in a few years. Although moving your company's physical office makes sense in a hybrid work model, it could make it challenging to shift to a larger space if you need more room in the future.
For example, let's say you downsize on a five-year lease. That might seem like a good decision for your company at the moment, but what if employee preferences shift back to in-person next year? If you're locked into a five-year lease, you might not have the space needed for your employees to work in the office more frequently.
Review your cybersecurity.
Check that your IT security protocols and processes continue to protect your business in a work-from-anywhere environment. When employees work outside of your physical office space, their devices and data are at increased risk of cyberattacks. Around 75% of IT professionals worldwide saw an increase in cyber-risk exposure after people began working from home in 2020. Before implementing a hybrid workplace strategy, then, make sure your IT team is prepared to continuously evolve security strategies, thus helping your company stay one step ahead of cyberattacks.
Focus on your diversity and inclusion initiatives.
It's vital that your new hybrid workplace strategy includes diversity and inclusion initiatives. The good news is that remote work is inherently more inclusive. By removing long commutes and providing employees with more flexible schedules, hybrid working environments make it easier for underrepresented employees to work for your company. Three groups in particular benefit from more flexible working environments: women, people with mental or physical disabilities, and people facing economic housing limitations.
Women tend to carry the majority of the family care responsibilities. Mornings filled with child care drop-offs followed by long work commutes can make it challenging for people with primary care responsibilities to manage both home and work life. Flexible work arrangements make it easier for women to balance the unpredictability that comes with parenthood and give them back some much-needed time in their days.
Individuals with mental or physical disabilities sometimes struggle with traditional office structures. Additionally, what could be a simple commute for a person without a disability might be challenging or time-intensive for those with mobility issues. Allowing employees to work from home removes barriers employees with disabilities might face in an in-office environment and allows them to focus on the important aspects of their jobs.
Lastly, many job opportunities exist in states or cities with a high cost of living. This creates a barrier for potential employees who can't afford to live close to the office. Remote work options not only provide more people with job opportunities, but also widen the pool of talent a company can draw from.
Look at the cost breakdown of remote workers.
Before finalizing your workplace strategy, it's important to understand the cost breakdown of a remote worker so you can make more informed decisions. An employer can save around $11,000 a year for every employee who works remotely half of the time. Savings associated with remote work can be attributed to a variety of factors, including reduced real estate cost if you downsize your office space, increased productivity, and salary adjustments based on the cost of living if your workers move to a different state.
On the other hand, if employees choose to move to a new country where the cost of living is higher and the statutory benefits differ, the costs that fall onto your company could be significantly more expensive. When hiring globally, you can leverage your workforce in two ways: set up individual entities in each country where you have employees, or work with a global employer of record who can act as the single point of contact for your entire workforce. Setting up entities in each location where you have employees is time-intensive and costly. And if you only have a small number of employees working at a location, setting up a local office isn't the most cost-effective option. On the other hand, partnering with a global EOR can provide a more cost-effective alternative that saves time and ensures you're compliant with local employment laws.
Before making the leap to a hybrid workplace, take the time to understand whether remote employees will cost or save your company money. Take a look at the mandatory employment-related costs in each of your hiring locations and compare these costs with your estimated costs per hire. Once you have this information, you can budget for these variables when making hiring decisions.
The Hybrid Workplace Is the Future of Work
The move to a hybrid working environment won't be a short-lived trend, but rather a long-term workplace strategy that companies adopt to recruit and retain top talent from anywhere in the world. Putting in the work now to come up with a hybrid workplace strategy that encompasses collaboration, communication, worker expectations, cost, and other logistics will set your company up for success for years to come.
Workers expect flexible arrangements. Learn more about how to recruit and retain top talent in an increasingly tight labor market here or Request a Proposal to learn more about how IES can help.
Written by: Sara Jensen, Vice President of Business Development at IES
Sara Jensen is the vice president of business development at Innovative Employee Solutions (IES), a leading global employer of record in more than 150 countries that specializes in payrolling and contractor management services for today's contingent workforce. Founded in 1974 in San Diego, IES has grown into one of the city's largest women-owned businesses and has been named one of its "Best Places to Work" for 10 years in a row.
Related Articles