What Insurance Coverage Should Independent Contractors Carry?

Posted on August 6th, 2019 Read time: 3 minutes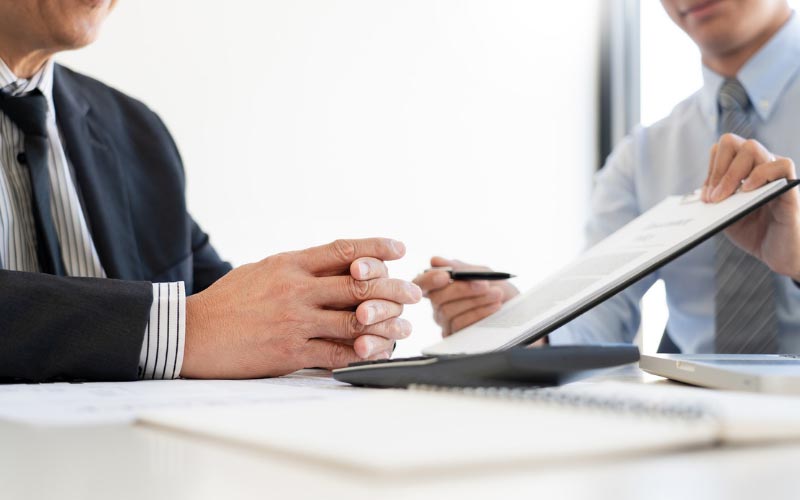 As an independent contractor, it's important to protect yourself and your business, and that includes carrying insurance coverage. Protection is crucial, especially in today's marketplace.
But what insurance do independent contractors need and how much? Common practice dictates that a contractor should have about $1 million in general liability insurance at least. But it is often best to have $1 million in both general and professional liability. It is typically thought that contractors who are engineers or architects only need to have professional liability, but that isn't necessarily true. This insurance covers you for the professional opinions and advice you give to a client, which is the very nature of what many independent contractors do.
And contractors who have W-2 employees should also be carrying workers' compensation insurance for them.
The amount of insurance required for independent contractors can be intimidating, but the costs can easily be included in contractors' hourly rate. This removes the financial burden while still protecting both the independent contractors and the clients they're working for.
Insurance Types and Why They're Important
But before digging into the details of the financial aspects, let's take a look at three types of insurance to understand why they're necessary.
1. General liability
As the name implies, general liability insurance protects a business and its owner from "general" claims that typically include property damage or injury. Accidents happen, and companies are legally responsible for any bodily harm or damage caused by their operations, service, or products. General liability can cover medical and attorney fees.
However, the distinction between general liability and other types of insurance is important, especially when it comes to the limitations of general liability insurance. A company that incurs punitive damages is not able to use its general liability insurance and would need to pay those damages out of pocket. General liability also doesn't cover any professional errors that can lead to a loss for a client. Injuries to employees aren't covered either.
While the law doesn't require general liability insurance, nearly every business carries it and considers it necessary. A single lawsuit could mean serious financial repercussions for an uninsured company. So while general liability insurance doesn't cover everything, it is always necessary.
2. Professional liability
Professional liability insurance covers any independent contractor doing business that could lead to a loss for a client. Professionals performing legal or financial work or consultants would need this coverage.
Professional liability insurance is also known as errors and omissions insurance, which is a helpful term for remembering why it's necessary. If an error or omission from one of your independent contractors incurs a loss to a client, that client has grounds to sue your company. Professional liability covers these claims and even baseless lawsuits related to professional work. For independent contractors whose work wouldn't lead to losses for a client, this type of insurance isn't necessary, but it's highly recommended for everyone else.
3. Workers' compensation and occupational accident
Worker's compensation coverage for W-2 employees is mandated for most workers, though the rules vary in each state. Workers' compensation covers medical costs or lost wages for workers who are injured on the job. Some state governments, including Ohio, North Dakota, Washington, and Wyoming, provide workers' compensation policies. Failing to carry mandated coverage could lead to government fines in addition to costly lawsuits from workers injured on the job.
Securing workers' compensation insurance protects both the business and its employees. If an injury occurs on the job, employees will be certain they are covered.
For a workforce of 1099 contractors, workers' compensation is not mandatory in all states, and the laws surrounding it are complex and open to interpretation. An occupational accident policy could be a better choice. In these policies, contractors pay the premiums and benefits are capped, usually around $100,000.
For companies hiring independent contractors, the first step they need to take is to partner with an agent of record who can guide engagement managers toward best insurance practices and ensure a smooth process for onboarding. Agents of record can also refer businesses to other partners who can evaluate insurance levels or help them obtain additional insurance to plug gaps in coverage.
To find out how IES can help streamline your independent contractor engagements, call us at 858-300-2757.
Let's break it down in a quick reference cheat sheet!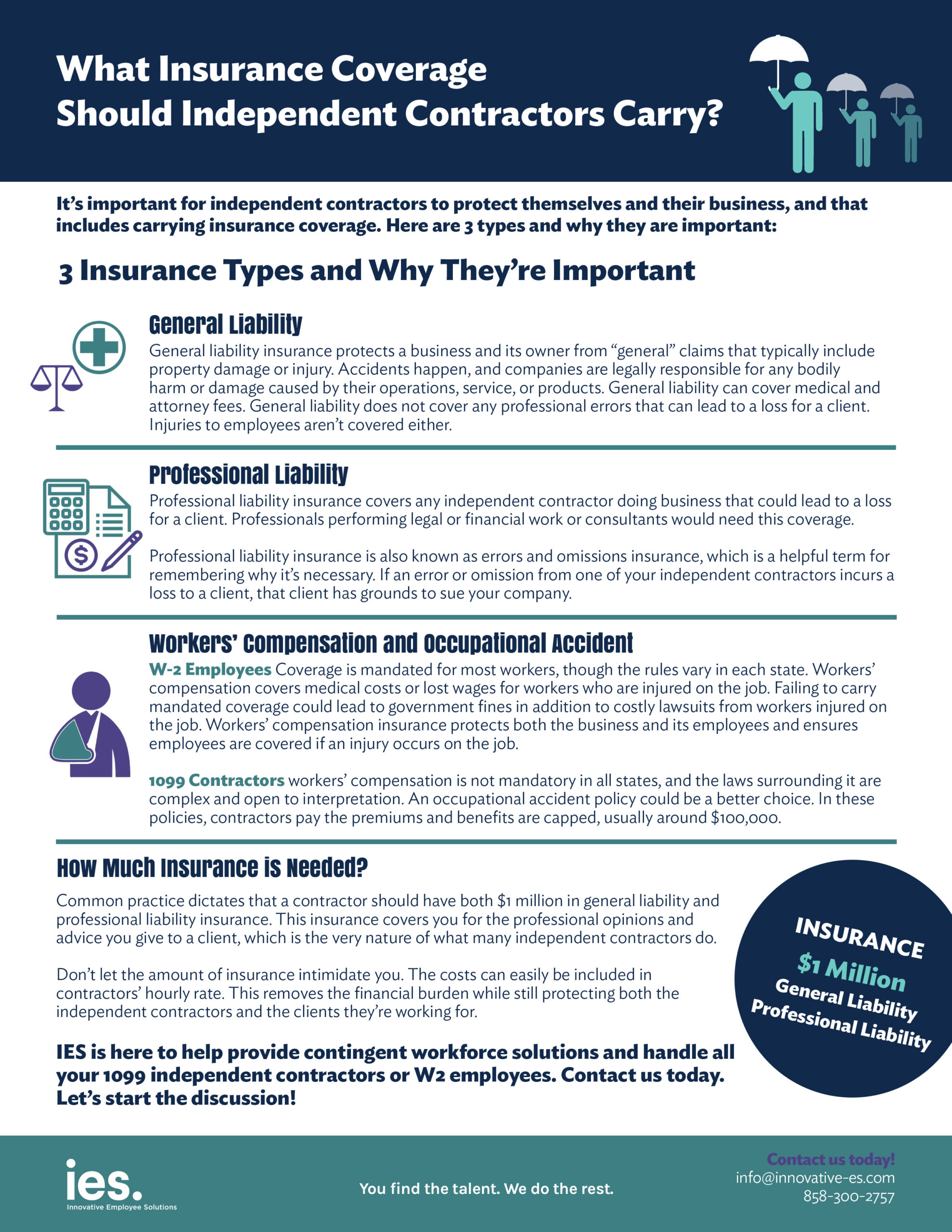 IES is here to help! Learn how IES can partner with your business to create customized direct sourcing strategies to help you with your contingent workforce needs. Contact us today to get a conversation started! Email us at info@innovative-es.com or call 858-300-2757.
Written By: Kara Hertzog, President
Kara Hertzog is the President at Innovative Employee Solutions (IES), a leading global Employer of Record in more than 150 countries that specializes in contingent workforce solutions such as outsourced payrolling, independent contractor compliance, and contractor management services. Founded in 1974, IES has grown into one of San Diego's largest women-owned businesses and has been named one of the city's "Best Places to Work" for 10 years in a row.
Related Articles