How to Use Social Media Platforms for Recruiting Workers

Posted on March 28th, 2022 Read time: 3 minutes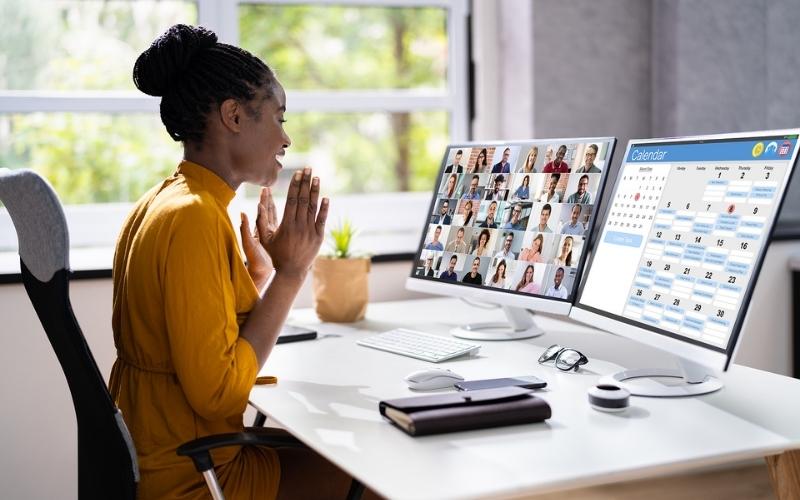 Recruitment strategies to attract and retain talent have had to change drastically over the past two years — especially in light of the Great Resignation. In December 2021 alone, 4.3 million workers left their jobs.
Employers combating the Great Resignation must understand why workers are searching for new jobs and career paths en masse and what it means for their growth going forward. Almost half of executives are still seeing higher-than-normal turnover. As a result, many companies are offering incentives such as signing bonuses and perks to try to attract sought-after candidates.
To successfully attract and retain new talent that enriches their companies, however, leaders need to think beyond incentives. They must recognize how many barriers to entry exist in their industries and then smooth the path for new talent to apply and interview. In short, they need new recruitment methods and channels to create a positive candidate experience.
The benefits of recruiting employees on social media
Of the new platforms for recruiting, TikTok has emerged as a bold, effective way to attract talent. It works because its following is part of a key demographic looking for work and new opportunities — Gen Zers account for more than 60% of TikTok's audience.
The channel is designed for quick, snappy, and entertaining content, qualities that are not often found in traditional platforms for recruiting that allow companies to showcase their unique brand to attract job seekers. Furthermore, TikTok's algorithm helps employers tailor their content to a specific set of job seekers and appear to people who are most likely to be interested in their company's goals, locations, and roles.
Other new recruitment methods are also proving useful for employers trying to stand out from competing companies. Pinterest, for example, used to be the go-to site for people looking for furniture or hairstyles. Now, companies are pinning jobs, employee testimonials, and more to their boards to offer job seekers a vision for their next career move and a direct link to their company's website. Networking sites such as LetsLunch and Opportunity are also becoming popular platforms for recruiting. Through these channels, companies can connect with people who are interested in working for them.
To combat the Great Resignation, brands must get comfortable experimenting with these kinds of channels. In short, finding new ways to recruit employees on social media will be key to getting the talent you need.
How to recruit employees on social media
If you're ready to recruit employees on social media to fill out your roster, you might be wondering where to start. Here's how to best use social platforms for recruiting the talent you need:
Meet target candidates where they are.
Who are you trying to reach? What kind of talent will add the right skills or energy to your company? Zero in on candidates where they are, on the platforms they're using every day. With social media, you can personalize your recruitment approach based on their background, employment history, personality, and what they're looking for.
Look at the channels your competitors use.
Do your homework and discover where other companies are posting job content. If companies in the same industry and with the same target audience as you are posting on TikTok, for example, that's a good sign you should be, too.
Consider DEI when posting jobs.
What DEI initiatives are underway at your organization? What platforms for recruiting could you use to reach a more diverse candidate pool? This might go beyond social media, as you'll want to find ways to speak directly to underrepresented demographics in your organization.
Track your recruitment progress.
You'll only see success from posting job information on social media platforms if you can track and measure how your efforts are going. For each of your job openings, track which sources provide the most candidates and the best candidate responses. Over time, you'll figure out which channels have the greatest success rates and can increase your efforts there.
As employers recover from the Great Resignation and its after-effects, it will be crucial to recognize how people are searching for jobs today, what platforms they're using to get excited about work opportunities, and where they feel most empowered to take action in contacting potential workplaces. You might be surprised by the success of these new recruitment methods when your company's next leaders apply because of a video you posted on TikTok.
If your company isn't using social media to its full potential, your competition definitely is. Stay on top of the best recruitment practices by subscribing to the monthly IES Newsletter today!
Written by: Tania Fiero, Chief Human Resources Officer at IES
Tania Fiero is the chief human resources officer at Innovative Employee Solutions (IES), a leading global employer of record in more than 150 countries that specializes in payrolling and contractor management services for today's contingent workforce. Founded in 1974 in San Diego, IES has grown into one of the city's largest women-owned businesses and has been named one of its "Best Places to Work" for 10 years in a row.
Related Articles