3 Post-Pandemic Predictions for the Future of the Workforce

Posted on August 3rd, 2020 Read time: 3 minutes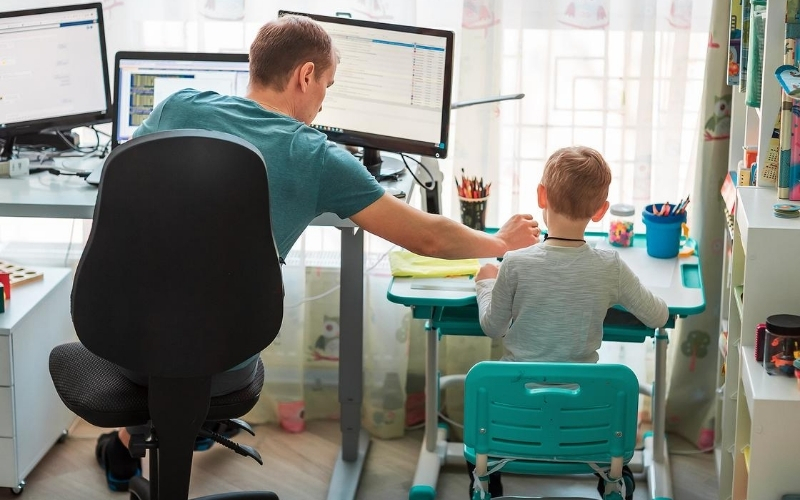 Local economies around the globe have been trying to figure out ways to continue business operations while still adhering to social distancing guidelines. While the solutions that businesses have concocted suggest the workforce we once knew is gone, creativity and resourcefulness are not in short supply.
With COVID-19 disrupting our sense of normalcy every day, many companies are slowly beginning to settle into a new way of doing things. What once seemed like a temporary situation has — for many businesses — become an exciting new way to approach productivity.
To survive, companies are forging new paths that will have lasting effects beyond the pandemic while changing the future of work.
How the Pandemic Will Affect the Future of Work
While there's no crystal ball to tell you exactly what work will look like post-pandemic, trends are emerging that can provide us a bit of a sneak peek. This is valuable because knowing where the workforce will likely be can help you figure out how to prepare accordingly.
Here are three predictions that will likely shape how your workforce looks going forward.
The future is now. 
While this first prediction might seem obvious, it also might be the most significant one on this list. The businesses that have gone remote in response to COVID-19 are realizing that the substantial investment in office space is — in terms of profit margins — money down the drain. As a result, what started as a temporary solution may take root as a standard operating procedure.
One expert predicts that, within two years, 30% of the workforce will be working from home at least a few days a week; that estimate may prove to be on the conservative side as time goes on. Make no mistake — COVID-19 sped up a shift that was already years in the making. Remote work is not a new idea in response to COVID-19, though. Workers have been pushing for more remote work access for years. Our current situation brought this reality to the forefront, and remote work is not going anywhere.
Contract work will become more prevalent. 
The pandemic's push toward remote work has done more than just move people out of their office — it has encouraged organizations to explore a new approach to work. The widespread use of remote tools has made it easier than ever for companies to hire remote talent for specific tasks instead of onboarding new full-time employees.
The contingent workforce thrives in a remote environment, enabling companies to stay productive while cutting costs. These workers are engaged to focus on specific tasks or functions. As companies get used to this type of engagement, the value of contract workers as more agile and flexible team members will only continue to increase.
Borders will cease to be barriers. 
When work becomes remote, geography suddenly is much less of an impediment. Many of the global workforce challenges that existed in an office-centric world no longer stand in your way. For many organizations, this means it no longer matters where a person lives as long as that remote worker has a specific skill set or is the right fit for the job.
Engaging talent across the globe, for many companies, can feel like a pipe dream. Each country engages talent in its own specific way. Finding resources to help you access the talent your organization needs — while ensuring you remain compliant and competitive — can be an incredible challenge on your own.
As a leading provider of global workforce solutions, IES helps organizations engage talent quickly and compliantly almost anywhere in the world. By partnering with IES as the employer of record or agent of record for your global hires, you can leverage talent outside of the U.S. to meet your business objectives. Whether you're working with web developers in Brazil or a team of data architects in India, hiring talent globally is the new norm.
Work is at the threshold of a new reality — one that COVID-19 forced us to embrace sooner than many predicted. As the pandemic persists and eventually subsides, the fallout will create a global and increasingly flexible workforce that's ready to make its mark.
If you find yourself overwhelmed by a future that is coming faster than anyone expected and unsure about how to navigate the changes, you're not alone. To learn how a tech company successfully navigated a significant hiring surge of 500 remote workers amid a crisis to meet market demands, download our recent case study, "Navigating Essential Hiring Surges Amidst COVID-19."
Written by: Antonio Barraza , Business Development Representative
Antonio Barraza is a business development representative and contingent workforce expert at Innovative Employee Solutions (IES), a leading global Employer of Record in more than 150 countries that specializes in contingent workforce solutions such as outsourced payrolling, independent contractor compliance, and contractor management services. Founded in 1974, IES has grown into one of San Diego's largest women-owned businesses and has been named one of the city's "Best Places to Work" for 10 years in a row.
Related Articles