Maria Goyer Named on the SIA Global Power 150 Women in Staffing for 2023 List
IES Chief Innovation Officer Named on the Staffing Industry Analysts Global Power 150 – Women in Staffing for 2023 List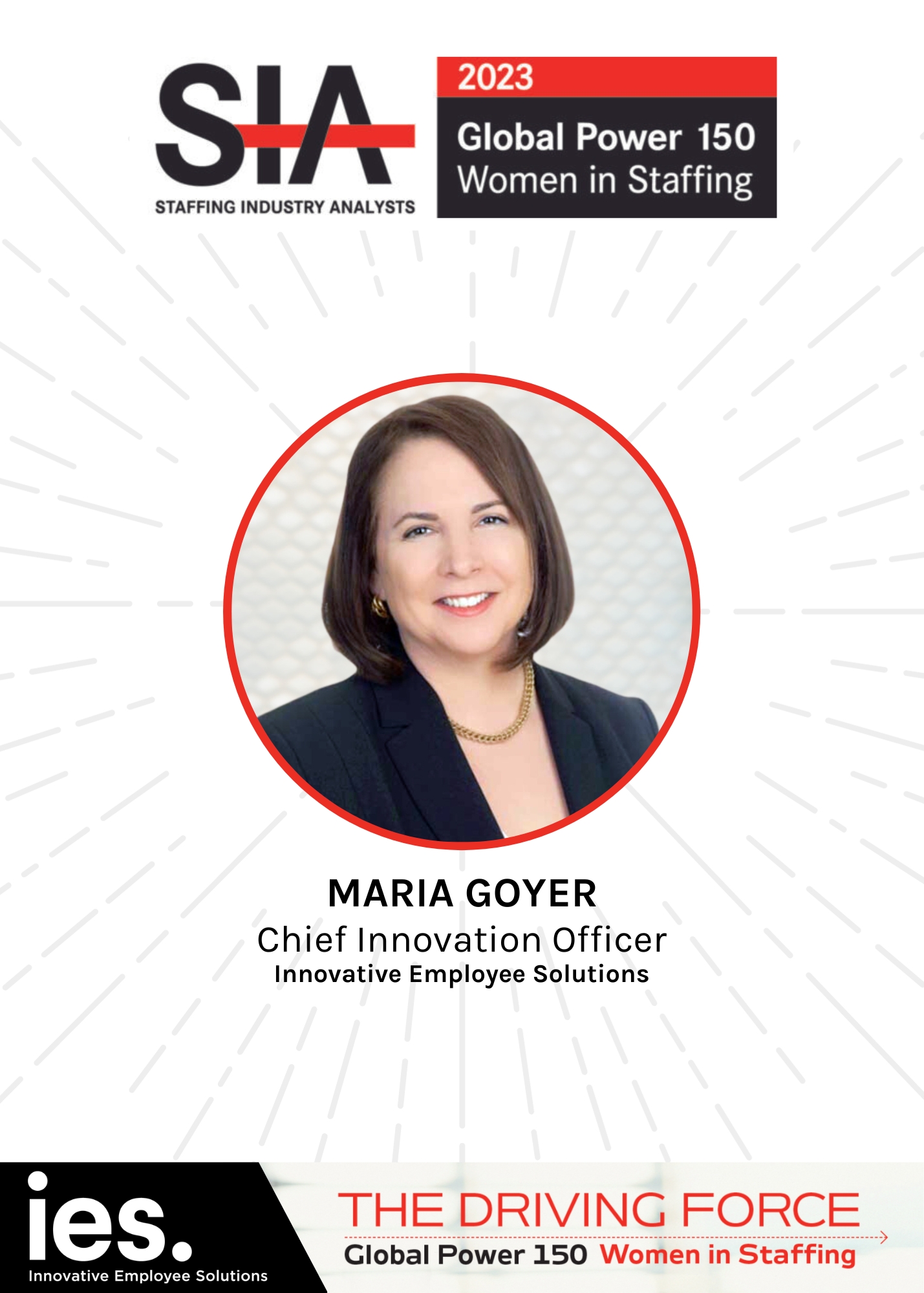 November 15, 2023 – Innovative Employee Solutions (IES) is proud to announce that Maria Goyer, IES Chief Innovation Officer, was named on the Staffing Industry Analysts Global Power 150 Women in Staffing 2023 list.
Now in its ninth year, this annual list recognizes women for exceptional contributions in the staffing industry amongst fellow industry professionals making the world of work better. Maria was one of 100 women recognized in the Americas.
View Maria Goyer's award recognition here.
See the full list of women honorees for the 2023 Americas 100 list here.
Read Staffing Industry Analysts official press release.
Congratulations Maria on your well-deserved recognition! IES is grateful to have your leadership.
Innovative Employee Solutions
Innovative Employee Solutions (IES) is a leading provider of remote and contingent workforce solutions, specializing in global Employer of Record, Agent of Record, and Independent Contractor compliance services in more than 150 countries. Our mission is to provide companies with flexible, consultative, and technology-driven solutions for engaging the evolving workforce, enabling companies to hire quickly and compliantly anytime, anywhere globally and across industries. Founded in 1974 by Karla Hertzog in San Diego, CA, IES has grown into one of San Diego's largest woman-owned and woman-operated businesses and named "Best Places to Work" for 12 years.
In addition, IES ranked by the SDBJ for the following: #1 in Women-Owned Business and #3 in Minority-Owned Business. IES has earned a reputation for client trust, high quality customer service and employee loyalty, achieving an NPS of 5x higher than the industry average. What's our secret? Empowering great people to do great work! We live and breathe our core values in all we do: People First, Future Forward, Integrity, and Teamwork! Our motto is Happy Employees = Happy Clients!"
For more information about IES, visit www.innovativeemployeesolutions.com.
About Staffing Industry Analysts (SIA)
Staffing Industry Analysts (SIA) is the global research and advisory firm focused on staffing and workforce solutions. Our proprietary research covers all categories of employed and non-employed work including temporary staffing, independent contracting and other types of contingent labor.
SIA's independent and objective analysis provides insights into the services and suppliers operating in the staffing and workforce solutions ecosystem. This includes staffing firms, managed service providers, recruitment process outsourcers, payrolling/compliance firms, and talent acquisition technology specialists. And the technological aspect encompasses options such as vendor management systems, online staffing platforms, crowdsourcing and online work services. We also provide training and accreditation with our unique Certified Contingent Workforce Professional (CCWP) program.
Media inquiries: For additional information, please contact Danielle Itani, Senior Director of Marketing, Strategy at IES: ditani@innovative-es.com