IES Named #1 Fastest Growing Private Company by San Diego Business Journal
IES Named Fastest Growing Private Company 2nd Consecutive Year by San Diego Business Journal
SAN DIEGO, October 23, 2023 — The San Diego Business Journal revealed today that Innovative Employee Solutions (IES), a leading provider of global Employer of Record services specializing in payrolling and contractor management for today's contingent workforce, ranked #1 on the 2023 Fastest Growing Private Companies in the large category.
With 69% growth in revenue from 2020 – 2022, the SDBJ ranked San Diego companies by percent of verified revenue growth from 2020 – 2022. IES was recognized for two consecutive years ranking #3 in 2022's large category and now ranking #1.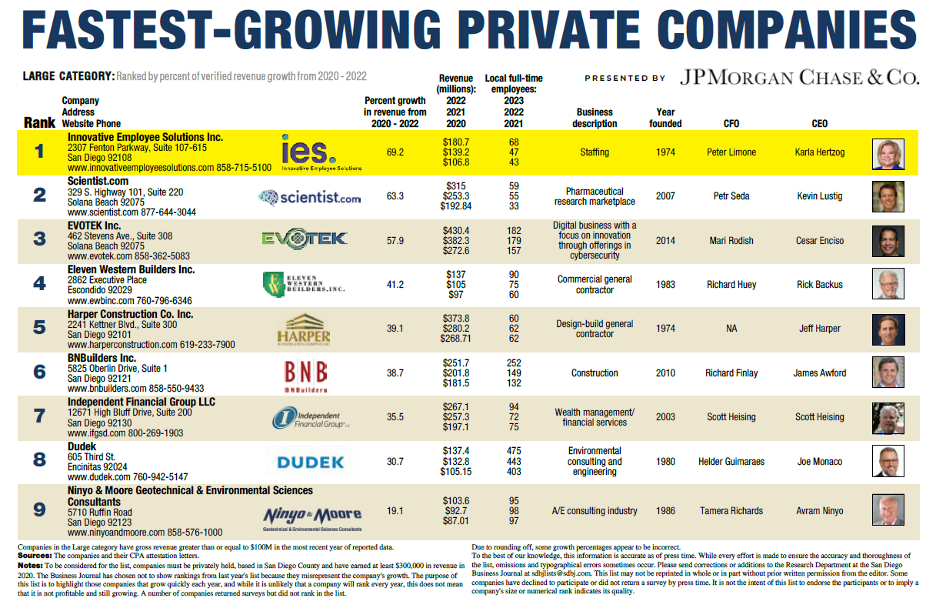 Founded in 1974 by Karla Hertzog, IES is a woman-owned business, certified by the WBENC and a leader of remote and contingent workforce solutions, specializing in global Employer of Record, Agent of Record and Independent Contractor compliance services in 150+ countries. IES partners with companies to provide compliant employment solutions that empower people's lives.
In addition, IES ranked by the SDBJ for the following: #1 in Women-Owned Business and #3 in Minority-Owned Business. IES has earned a reputation for client trust, high quality customer service and employee loyalty, achieving an NPS of 5x higher than the industry average. What's our secret? Empowering great people to do great work! We live and breathe our core values in all we do: People First, Future Forward, Integrity, and Teamwork! Our motto is Happy Employees = Happy Clients!
For more information about IES, visit www.innovativeemployeesolutions.com.
Media inquiries: For additional information, please contact Danielle Itani, Senior Director of Marketing, Strategy at IES: ditani@innovative-es.com