Payrolling & HR for Defense Companies
Full Service Outsourcing for Defense Firms and Other Medium to Large Organizations
Your first line of defense for hiring surges? IES.
Quickly responding to frequent, unpredictable hiring needs and meeting the demand to get security clearances STAT.  Implementing emerging technologies in a cost-effective way, while addressing the urgent push to find top talent. It's all causing slowdowns to your organizational success.
Let the professionals at IES fast-track your contingent hires. As your Employer of Record, our proven innovative HR systems and solutions streamline and speed up your organizational processes, saving you significant time and money.  We'll increase your efficiency and protect your interests so you can stay focused on other essential daily responsibilities – and give you the competitive edge to win new business.
Benefits of Employer of Record Services include:
Surge hiring management:  increased speed of onboarding and obtaining security clearances, including application screening, background checks, W4s, I9s, etc.
Compliance management services to alleviate the stress of keeping up with changing federal and state laws.
Payroll processing and competitive benefits for your contingent workforce.
Human resource administration, management and compliance including workers compensation, general liability, unemployment, health care, and all other legal employer responsibilities.
Convenient and user-friendly client portal make managing your contingent workforce easy!
Learn More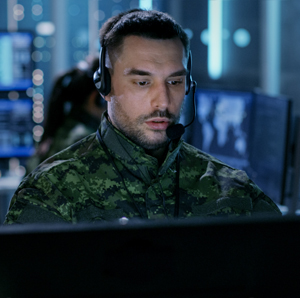 "IES has always been very responsive, professional, and helpful with all my transactions. They understand the urgency under which we need to hire, and will provide much-needed guidance to our managers. I appreciate their work ethic."
— TALENT ACQUISITION MANAGER, DEFENSE COMPANY
Independent Contractor Compliance
A 1099 contract worker…or a W2 employee?  The wrong choice could cost your company thousands in IRS penalties.
Our best-in-class independent contractor compliance tools help medium to large companies with contingent workforces meet their daily challenges head on. With over 10 million self-employed resources in the workforce, it's more important than ever to ensure you're handling your independent contractors the right way.
Avoid risky business with Innovate IC from IES.  The high-precision online tool that completely vets your contingent hires. With IES as your Agent of Record, we manage the contractor engagement from start to finish.
Learn More